Every dog is special, but some need a little more protection in cold weather than others. For special needs dogs; the Hairless Chinese crested, Hairless Incas, some of the toy breeds, the aging or elderly, the immune-deficient dogs, or dogs who just always seem to be cold, we offer three types of extra protection inner fabrics on our Snow Angel and Rain Chaser coats:
Polartec 300 weight fleece
Polartec Wind Pro fleece
Polartec Thermal Pro High loft Curly fleece
(wondering which fleece choice is best for you? See also our "which coat do I need?" page)
Polartec 300 Weight Fleece
The 300 weight fleece is heavier and thicker than the Polartec® 200 Series. As the temperatures dip, the 300 weight provides extra protection. Add $20 to your coat price.

Available 300wt fleece fabrics:


Black 300 wt.



Camel 300 wt.


Taupe Heather w/Tan 300 wt.
LIMITED STOCK- AVAILABLE FOR FLEECE SNUGGLERS ONLY


BluePlum 300 wt.


Red Low Velour 300 wt.


Aubergine 300 wt.


Espresso 300 wt.


Chinese Red 300 wt.



Wind Pro Fleece
Polartec® Wind Pro® fabrics provide a special tight-weave for extra wind protection for extreme wind conditions. A very strong, solid fleece. Add $40 to your coat price.
Available colors in Windpro: Black, Red Low Velour, Licorice Red, Pine Green
Polartec® Thermal Pro High Loft Curly Fleece
Azalea High Loft Curly


Cherry High Loft Curly


Black High Loft Curly

Polartec® High Loft fabrics maximize warmth while remaining light weight and breathable. We consider them an equivalent of down filling - like down, they are compressible. They are the most technically advanced of the Polartec® insulation fabrics, achieving the utmost versatility and performance under extreme conditions. Absolutely beautiful and a pleasure to touch. Available in Azalea, Cherry, Earth (Dark Brown), and Black. Add $50 to your coat price.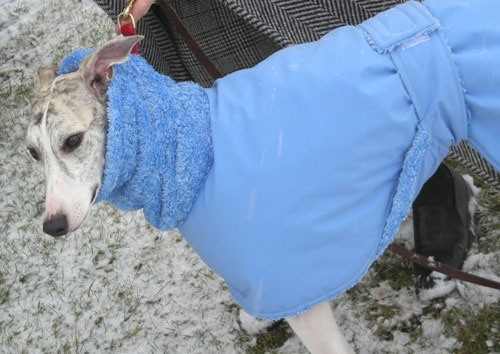 Dante's vulnerable neck and chest area - where so much body heat is lost - is well protected with his high-loft curly thermal fleece Snow Angel with tummy warmer! (of course, the special fleece lines the entire jacket, not to mention the filling and Gore-tex outer shell). This color is no longer available.

> Questions? Contact Blue Willow!
> See all Fabrics and Options