Home > Accessories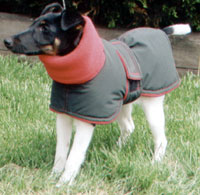 We craft both heavyweight winter dog coats and lighter weight autumn, spring dog raincoats.
Our coats are durable and built to last a lifetime.
Coats are custom made to your measurements.
Make a dog happy: order a coat today!
Copyright © 2007-2010 Blue Willow Whippet Wear. All Rights Reserved.
Blue Willow Dog Coats offers custom-made winter dog coats and waterproof raincoats for Whippets, Greyhounds, Italian Greyhounds and all sighthounds. Custom made coats can be fitted for any breed!