Gift Certificates for Dog Lovers
A Blue Willow gift certificate is a thoughtful gift for the serious dog lover in your life! It's the perfect combination of luxurious and practical: a really warm, high-quality, custom made dog coat that will last!
"LOVE LOVE THE COAT!!! and so does Lucy! thank you so much... you should be very proud of your craftsmanship. It's beautiful, and well worth the wait."
Your gift can be any dollar amount of your choosing. Dog raincoats and winter coats run between roughly $100 and $200. Other products, including dog beds and crate mats, belly bands, and "cool coats" (to keep dogs cool in the summer) can be $50 or less.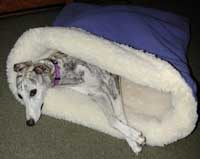 Our adorable "pita beds" are sleeping bags for dogs - a hot seller and cute gift!
Gift Certificate Order Form
After you have completed this form, you will be taken to a page where you can print out the gift certificate for your friend or loved one. If you would prefer for us to mail a gift certificate, feel free to tell us in the instructions, below.