"Sharon: THANK YOU
for such a gorgeous and warm coat!"
"I Cannot Imagine
the Diva being cold when wearing this!"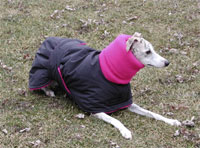 We craft both heavyweight winter dog jackets and lighter weight autumn, spring, and raincoats.
Coats are styled for sighthounds or other breeds.
Our coats are durable and built to last a lifetime - hand-crafted with love in Wisconsin, USA.
Coats are custom made to your measurements.
Make a dog happy: order a coat today!