Q: Do you ever have sales?
A: Yes! We often run spring and summer sales, or check our clearance page.
Q: I live in [location] - which coat do I need?
A: Please read "which dog coat do I need"? here.
Q: Are the coats custom-made?
A: Yes! We sew your dog's coat to your measurements. That is why we have so many options available, like lots of colors, reflective strips, trims and edge beading, harness openings and extra protection thermal fabrics - so that your coat will be just the way you want it, and a perfect fit, too!
Because these are custom-made items, we can't offer a returns policy as generous as Amazon or Walmart. See more on returns and alteration below. Be sure to watch our video and measure carefully.
Q: How long will my coat take?
A: In the busy winter months (Sept - Feb), coats generally ship in 8-10 weeks from when payment is received. The rest of the year, you can expect that your coat will ship in 4-6 weeks. Special order fabrics may add 2 weeks to your order.
Q: Why does it take so long? Can you expedite?
A: These coats take time because each coat is custom-made based on your dog's measurements. The timeline is longer during our busy winter season, when we get 90% of our yearly orders. In order to be fair to all of our customers (and their chilly dogs!), we don't offer an expedite service at this time.
Q: Can I pay by mail?
A: Yes! Just print the order form, fill it out, and mail it along with the check.
Q: I have a lot of questions. Can I call you to discuss options?
A: Yes! Look on the Contact page for my contact info.
Q: Can you ship to the UK, Canada, Norway or other countries?
A: Yes! We have shipped dog coats to many international destinations: Norway, Canada, England, Spain, Wales, Greece and more. We even have one customer in the Arctic!! Select the "international" checkbox on the order form and you will see an estimated shipping surcharge. I will refund any overpayment on shipping.
Shipping bulkier items such as Pita Beds to Australia and New Zealand is expensive and requires an additional surcharge, so we ask that you contact us if you want to ship a bed to AU or NZ.
Q: Why do you recommend Signature Confirmation for an added cost?
A: Our standard shipping price includes basic tracking, delivery confirmation, and insurance through the US postal service. However, without signature confirmation, the coat is not insured if it's lost after the post office delivers. That means, if the postal carrier leaves the package on your porch or in your lobby, and then it goes missing, insurance will not cover the loss, and we cannot refund this loss. That's why we strongly recommend signature delivery to ensure that I can replace your coat if you don't receive it. If you choose to opt out of signature delivery, please understand that you are accepting the liability of where the delivery person leaves your package. If you opt out of signature confirmation, Blue Willow will NOT replace or refund your payment if the post office tracking shows it was delivered, even if you didn't get it.
Q: Are the coats machine washable?
A: All of the coats are washable in warm water. Avoid bleach and fabric softener. Line dry or on delicate setting in the dryer. Do not iron. Learn more about our fabrics.
Q: Can you make a coat for a breed other than Whippets, Greyhounds, and Italian Greyhounds?
A: Absolutely! Since coats are made-to-order, they can be made to just about any size dog. Rhodesian Ridgebacks, Boxers, Vizslas, Dobermans, Weimeraners and Boston Terriers are just a few of the breeds that wear Blue Willow Coats. Just provide the measurements for your dog and include them on the order form.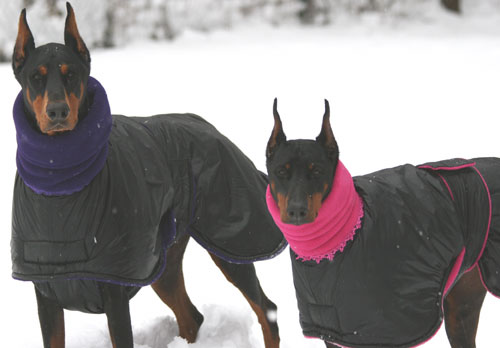 Q: What is your waterproof/breathable outer fabric? Is it Gore-Tex?
A: As described in Wikipedia: "Now that the main Gore-Tex patent has expired, there are several other products on the market with similar characteristics that use similar technology." Our waterproof/breathable outer fabric is not Gore-Tex, but is a generic modern fabric with similar properties to the very well-known trademarked fabric. Because of this fabric's microstructure, water beads up and runs off of the surface, instead of being absorbed into it. Fabric choices and options
Q: My dog has trouble with urinating on jackets? Can you help?
A: Yes! Choose a band with top velcro closure instead of a tummy/chest warmer.
Q: What is your returns policy?
A: You may return your like-new coat for any reason within 30 days of purchase for a 50% refund. WE DO NOT OFFER FULL REFUNDS for any reason other than Blue Willow errors (coat doesn't match your measurements, wrong color, etc.). For fitting problems, please read "What happens if the coat doesn't fit?"
Pita Beds, dog beds, and crate mats may be returned in like-new condition within 30 days for a full refund.
Shipping costs on returns (shipping back to Blue Willow) are paid by the customer.
There are no returns on clearance coats or on embroidered coats, so please watch our video and measure carefully.
Q: What is your cancellation policy?
A: Contact us right away. If we have not started work on the coat, we will issue a full refund. If we have already cut the cloth for your coat, we will refund 50% of your payment.
Q: Can I change colors/sizes/style after the order is made?
A: All orders are confirmed via email. If you need to make a change or update a dimension, please get in touch as soon as possible. If we haven't started work on your coat yet, we can very likely accommodate your change. If the fabric has already been cut for your coat, an additional fee based on the cost will be necessary for changes.
Q: What happens if the coat doesn't fit?
A: On rare occasions, a coat arrives and does not fit your dog well. Unfortunately, because of the high cost of materials and sewing work involved in creating your custom coat, we cannot offer a full refund for a coat that doesn't fit due to incorrect measurements that you provided to us. However, we want to work with you for a happy outcome that is fair for all concerned:
If Blue Willow did not create the coat in accordance with your measurements, it will be fixed or replaced at no charge other than your cost to ship it back to us.
If Blue Willow created the coat in accordance with your measurements, here are your options:
If the coat can be altered to achieve a better fit, you can send it back to be altered. We will charge you the minimum possible fee based on our costs and shipping.
If the coat must be re-built from scratch, you may return the first coat for a 50% refund, and apply the refund toward a replacement coat. We will rush your replacement order.
If the coat does not fit when built to your original measurements, and you do not wish to pay for alterations or for a new coat, then you may return your coat within 30 days for a 50% refund, and we apologize that we were not able to provide you with a Blue Willow coat to your satisfaction.
Nobody - least of all us - wants you to receive a coat that doesn't fit your dog well! Please watch our video and measure carefully.
Q: Can you alter a coat if my dog grows, gains or loses weight, etc.?
A: We can try to alter a coat to keep it fitting well for a dog that has changed in size or needs. We do our best to accommodate these needs at a reasonable price, however, you should know that some alterations that sound minor (adding a few inches around the midsection or neck) can require almost as much work to tear out and replace as a new coat would cost. Because of the amount of labor involved, some alterations are more expensive than you may hope. Alterations generally start at $50.
Q: Can I order now and pay later?
A: We do not begin work on a coat until payment is received. If you wish to order now and pay later, please make a note of it in the notes section, of the order form so we can put your order "on hold." Please understand that we are a small business, so we'll consider your order cancelled if we don't recieve a payment or communication within 4 weeks.
Visit Blue Willow on Facebook for deals and announcements!
> Questions? Contact us!