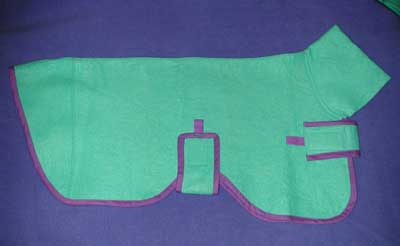 Our high quality cooling coats are made from a synthetic chamois ("shammy") made in Germany of 100% viscose. The fabric is manufactured by an air-spun technology. This makes the chamois highly absorbent, lint free, strong and soft when wet or dry. It will not ravel or tear. It can be sanitized and washed alone in the machine or by hand. Viscose should be air dried - do not iron, bleach or use a dryer. Order now or read on for more info...
Options: Color, Collars, and Closures
Cooling coats are available in sea green, light blue or tropical orange.
| | | |
| --- | --- | --- |
| | | |
| Light blue "shammy" | Sea Green "shammy" | Tropical orange "shammy" |
| | | |
| Lavendar "shammy" | Pink "shammy" | |
The trim can be the same color as the fabric or a contrasting color. Choose from lavender, red, gold, tan, black, navy, thistle blue, or white.
Collar: Our wet coats can have a collar which opens in the front (not an over the head collar), or no collar.
Closures: Wet coats have a closure in front and under the belly. Choose between velcro or webbing with adjustable plastic buckles (like collar buckles).
Price
COOLING COAT SIZES and PRICES

Size
length: base of tail to base of neck
Wet Coat price

Make a dog happy - Order a cooling coat today!

XS
13" - 15" (puppies or Italian Greyhounds)
$45
S
16" - 18" (puppies or Italian Greyhounds)
$50
M
19" - 21 " (Whippets)
$55
L
22" - 24" (Whippets)
$60
XL
25" - 27" (Greyhounds)
$75
XXL
28" - 30" (Rotties, Ridgebacks, Danes)
$100
All of our cooling coats are custom-made. For a perfect fit, measure your dog from the base of the neck to the base of the tail (see a picture on our Dog Coat SIzes and Prices page) to determine your wet coat size.
How To Order Your Wet Coat / Cooling Coat
We think you will love the ease of using our wet coats/cooling coats and your dog will feel so much better in the summer heat!
Order online or phone or email me in to place your order
> Questions? Contact us!